Designed by Dubai-based architectural studio tkdp, and completed in July 2023, The Fold is a low rise urban development comprising of 28 terraced townhouses arranged along the prime Al Wasl Road in the Jumeirah district, one of the most sought after areas in Dubai, renowned for its high-end yet diverse urban fabric and relaxed atmosphere.
Location – Dubai, United Arab Emirates
Type – Residential
Area – 16,000 sq.m
Completed
Client – Huna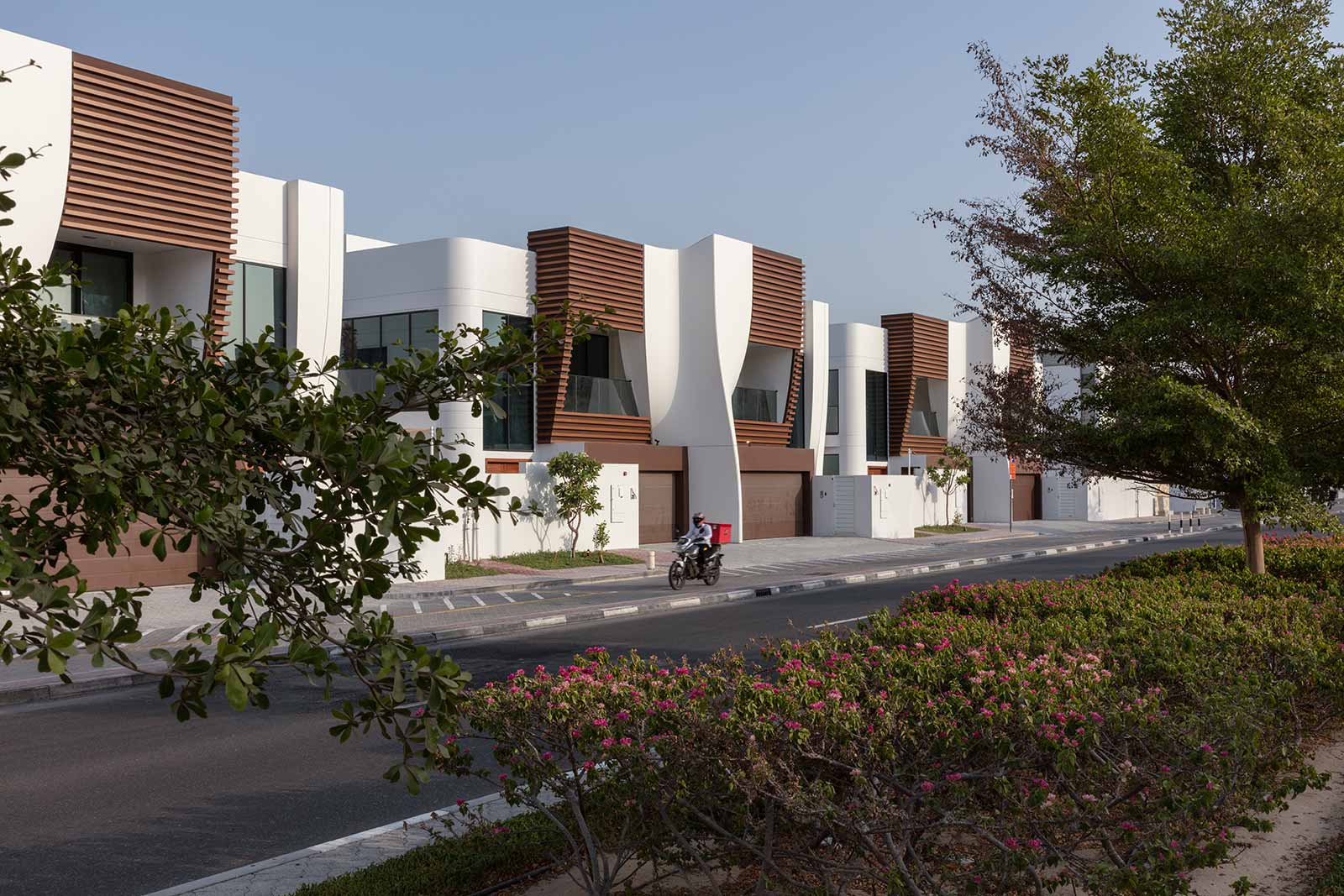 A combination of refinement and inclusivity
The Fold aims to redefine the residential offering in the UAE as well as in the GCC area, establishing a new architectural paradigm subtlety combining sophistication, refinement, and inclusivity, furthering the social, infrastructural and environmental progress the region has witnessed over the past century.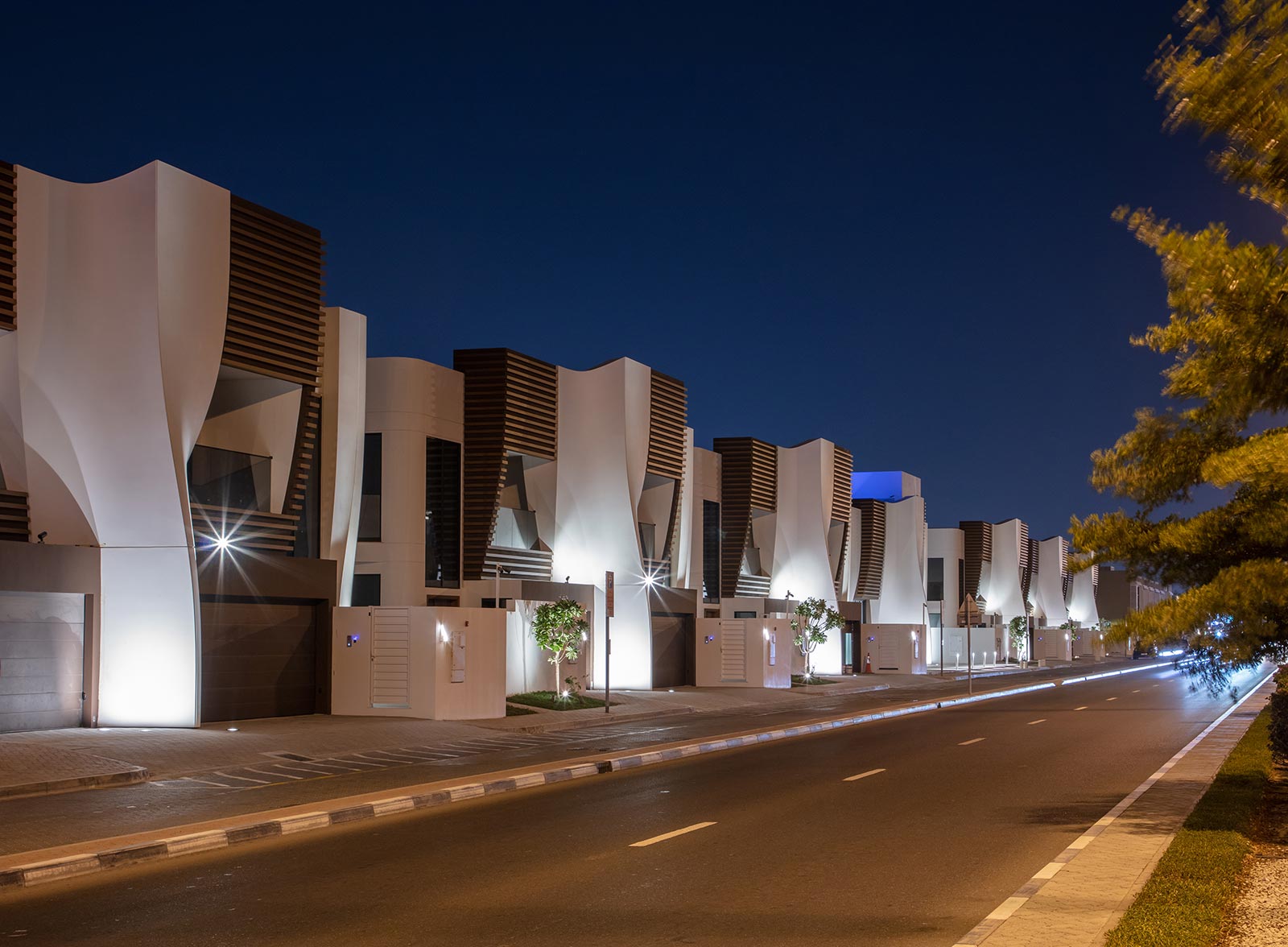 Where lifestyle needs meet design solutions
Tkdp's approach has been guided by extensive research and investigation of the site and its wider existing context. The main challenge was to coherently address the social, environmental and lifestyle needs and aspirations of the residents, through more daring yet functional design solutions, steering away from the otherwise repetitive architectural language that has shaped the neighbourhood over the past 50 years.
The design ideally resembles the simple yet striking elegance of a field of tulips, orderly aligned to Al Wasl Road. The bespoke 12m double curved GRP components of the villas' envelope are not a mere aesthetic addition, yet serve as connecting points coherently adjoining the volumes, giving continuity to the overall ensemble. The GRP has been enriched with EIFS (Exterior Insulation Finishing System), giving an homogeneous silky finish whilst also ensuring even higher insulation and better thermal performance overall.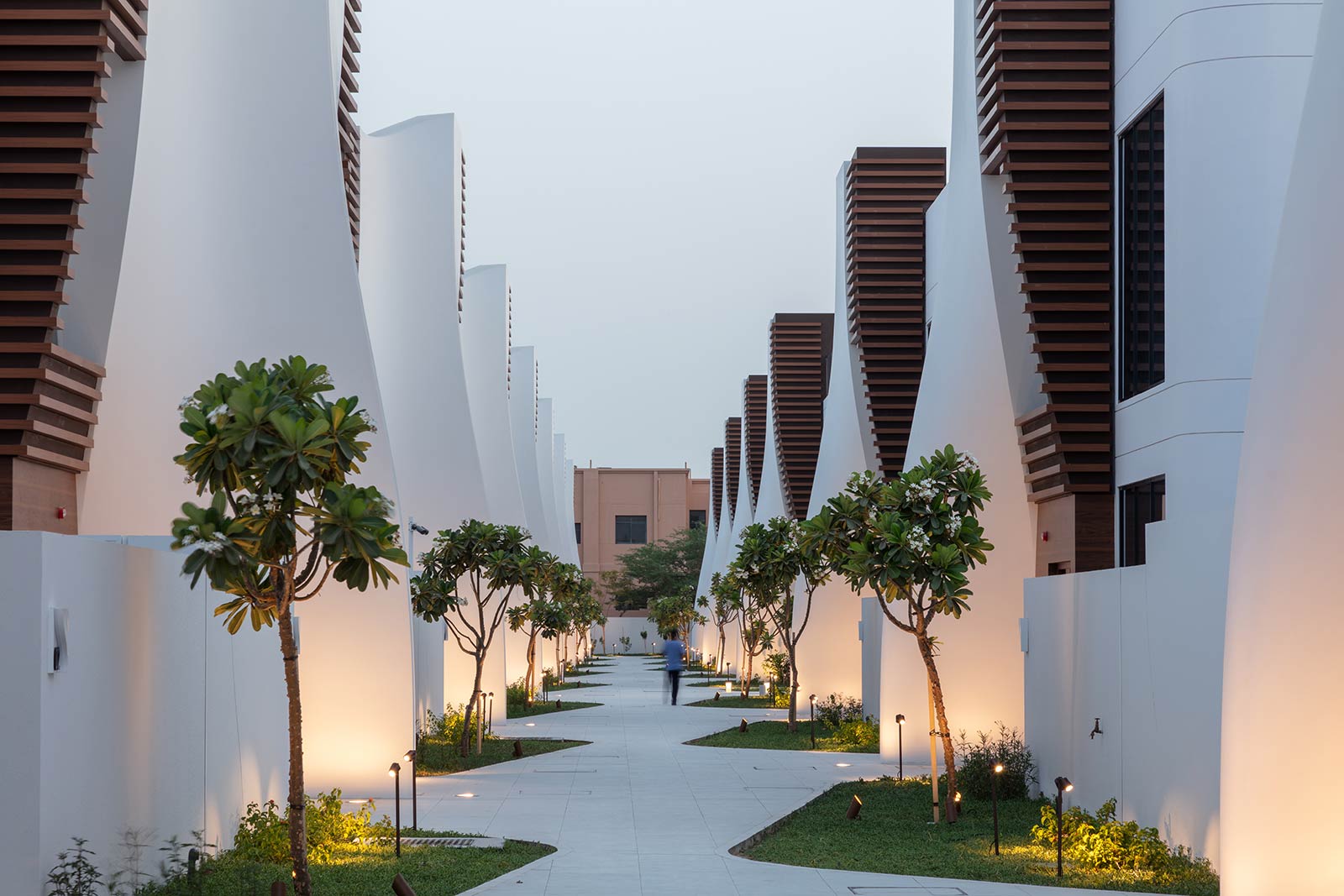 A private, intimate and secluded common area
The 28 townhouses are organised along a 200-metre central axis; a wide pedestrian artery offering an escape from the busy Al Wasl Road and its surrounding, while also facilitating interaction between neighbours: a platform for people to meet, socialise, and engage in sport activities, fostering a truly new approach in terms of community-building, nurturing dialogue and creating a sense of real togetherness which is currently lacking in the immediate adjacencies and beyond.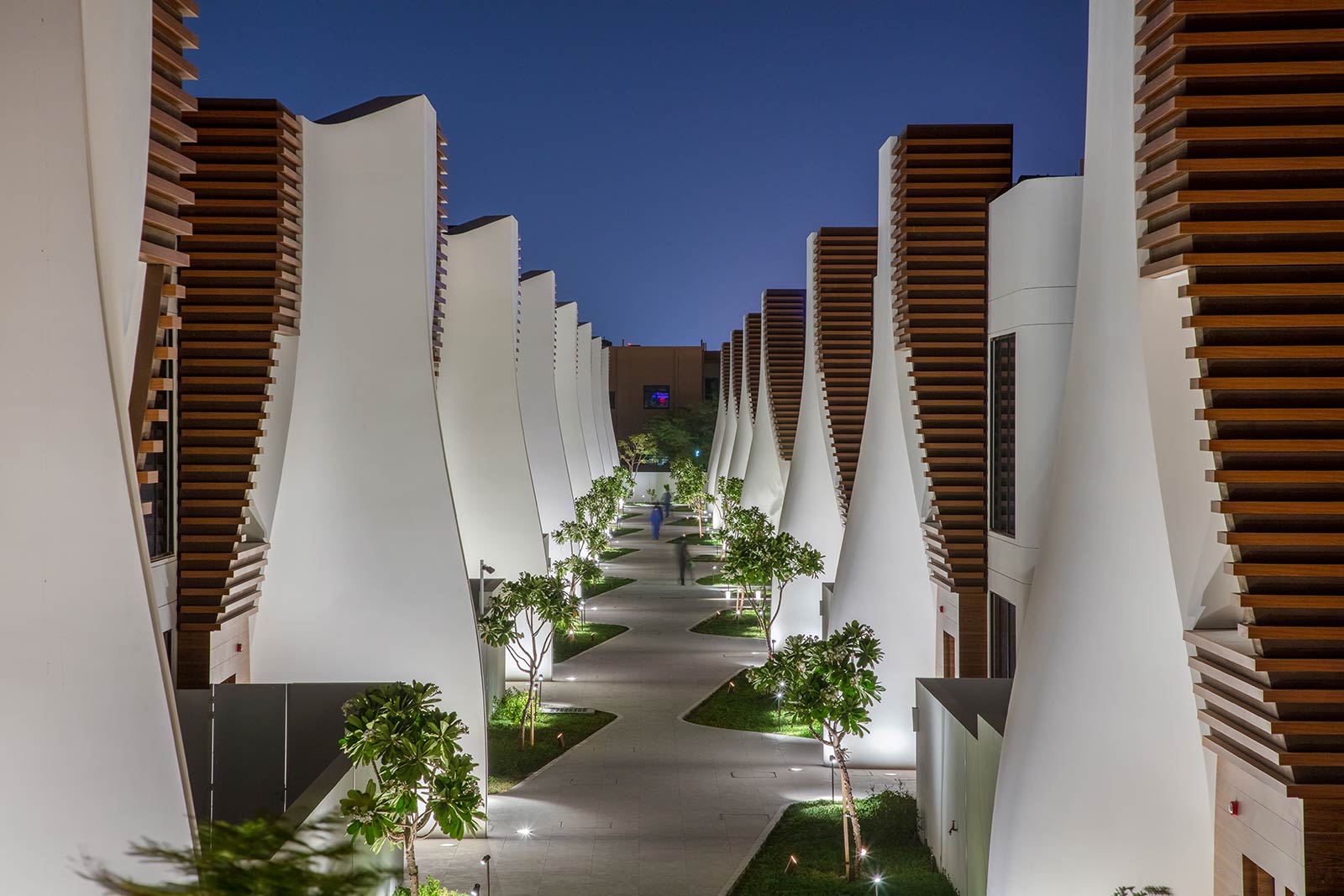 Unique view of the city skyline
All villas have been conceived with 3 or 4 bedrooms, featuring high ceilings, as well as ample living and entertainment areas. On the ground floor, the double-height entrance opens on to the living and dining rooms, extending to the screened private garden.
On the upper floor, taking into consideration the very specific climatic conditions, as well as to provide privacy and tranquility, wood-powder-coated aluminium louvres ensure shade and comfort to the balconies that are seamlessly connected to the internal spaces: bedrooms, walk-in wardrobes, and bathrooms. To maximise and enhance the overall residential experience, the roof is fully accessible and functions as terrace & spa, with a secluded jacuzzi offering a unique viewpoint towards Downtown Dubai, Burj Khalifa, and the whole Jumeirah area.
Design Lead
Tariq Khayyat & Xiaosheng Li
Design team
Sarah Asif
Mohamed Fahmy
Louai Jaber
Ahmed Yakout
Abdulrhman Al Howash
Abdulrhman Ibrahim
Bana Mansour
Omar Kaddourah
Consultants
Architect of record & Engineering
Al Khawajah engineering consultancy
Facade & Sustainability
Drees & Sommer
Architectural Lighting
Delta lighting solutions
General contractor
AROMA
GRP & GRC Sub-Contractor
Arabian Profile
Photographs
Luke Hayes
Our projects stand out, add a signature value to the built environment, benefitting clients and communities at large